18.05.20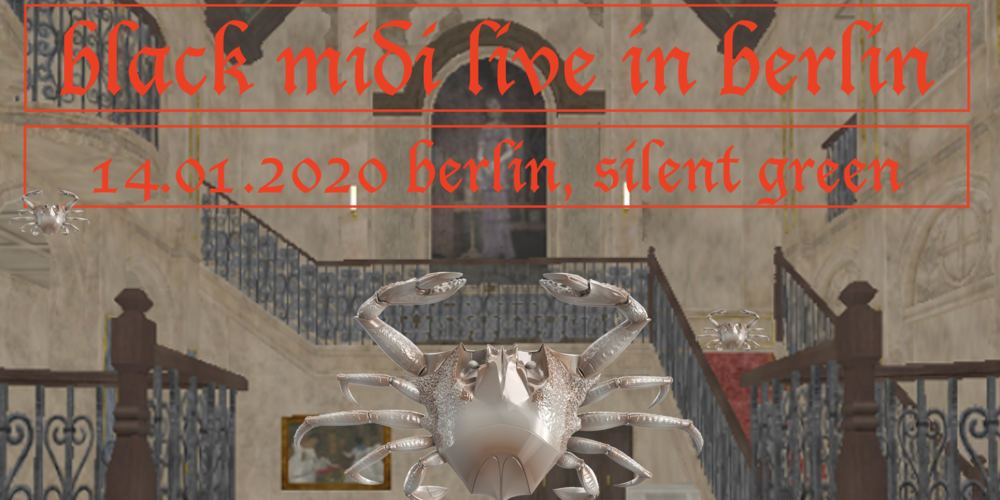 Tickets für
Black Midi

Nachholtermin 18.05.20 in Berlin, silent green Kuppelhalle
Tickets zu Black Midi
Berlin
Die Veranstaltung ist ausverkauft.
---
Informationen
We're really sorry to announce, that the Black Midi show at silent green has to be rescheduled due to unforeseen circumstances. The new date is May 18, 2020.
The tickets stay valid, anyone that would like to return their ticket and be refunded should contact their ticket vendor.
---
Schweren Herzens müssen wir euch mitteilen, dass das Konzert mit Black Midi wegen unvorhersehbarer Umstände verschoben werden muss. Die Show wird am 18.5.2020 nachgeholt.
Die Tickets behalten ihre Gültigkeit, wer sein Ticket trotzdem zurückgeben möchte, kann deshalb seine/ihre jeweilige VVK-Stelle kontaktieren.
---
black midi will return to Berlin in January 2020 to perform a special seated show at silent green, the band will perform a different set as they will perform at their already sold out show at Lido in October 2019.

black midi (selhurst) are the enigmatic new London 4-piece that are quickly becoming one of the hottest new underground bands in the country.
Having formed only a year ago – and making their name (as a lot of the great new up and coming bands are) The Windmill in Brixton – they feature Geordie Greep (vocals/guitar), Cameron Picton (bass/vocals), Matt Kelvin(lead guitar) and the incredible drumming of Morgan Simpson.

Taut, frenetic, inventive, and with an off-kilter sound that is so completely their own – at a recent (and the only real official thing online about them so far) Queen Kong NTS Radio live session at Flesh & Bone Studios, all the songs they played were so new – none had any titles. In whole existing mainly as a live act up to now, with their newly released 'bmbmbm' recorded in just a few hours at Dan Carey's Speedy Underground.